Fixing Flagpoles

•

Flagpole Installation and Relocation •

New Flag Sales
A Flag It LLC is a flagpole services company with over 30 years of combined experience in the Flagpole and Sign Industry. A Flag LLC it offers flag and flagpole installation, repair, and maintenance services in Southwest Florida. We also sell a variety of different flags. We love helping people express their patriotism by flying the flags of their countries or states, as well as keeping them and the Flagpoles that display them in great condition.
Flagpoles
Maintain the dignified appearance of your Flagpoles with repair and maintenance by A Flag It LLC in Southwest Florida. We also offer commercial & residential Flagpole installation. Installation is always done by a fully licensed contractor. We handle the entire process from Flagpole Sales to Permitting, obtaining Florida Approved Engineering, even Flagpole Delivery and Receiving. From start to finish we take care of everything, so you can relax knowing your Flagpole will be a Reliable and Beautiful Investment in your Community, Business or Home.
Flags

Whether you want to purchase new U.S. Flags, Country, State or Custom Flags, we offer "Made in the USA" products and we carry a variety of Flags and Flag sizes right on our trucks. We are your source for complete flag sales and repair.
Our business has been serving Southwest Florida for over 20 years. Bonita Springs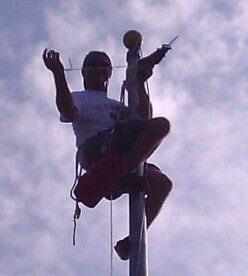 was a great location to start our local business because we are at the epicenter of Lee and Collier County. We also serve the surroundi
ng areas such as Punta Gorda, Port Charlotte and Sarasota. Our mission is to serve our local communities by giving them quality products and outstanding service with all of their Flag and Flagpole needs.
Once known as "A Sign It of Southwest Florida ", we still uphold the same quality products and service that we were known for over the years. In the early 2000s we decided to transition our sign business into a full-on Flag and Flagpole business as it seemed that our uniqueness laid in Flagpole sales, installations, re-locations and repairs.


From commercial to residential locations, our company has seen it all. We make having a Flagpole easy for anyone.